German developer tado° wants to educate the legions of common "dumb" air conditioners out there into smarter Internet-of-Things appliances capable of adjusting cooling according to occupant proximity, weather forecasting, ambient light, motion detection and noise sensors.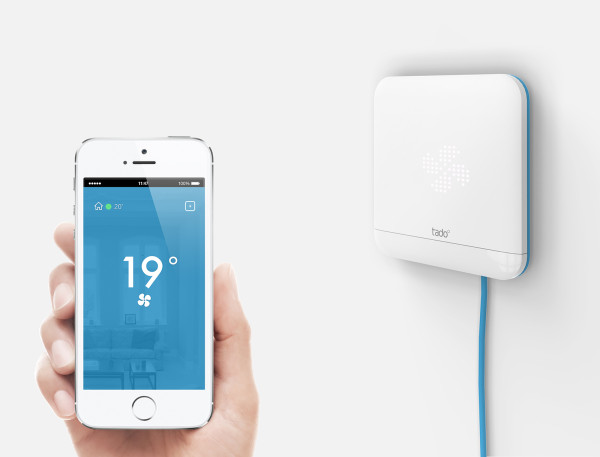 tado° Cooling is a two-component conversion kit designed to upgrade nearly any existing wall-mounted (ductless or split-units), in-window, or portable AC units into smartphone controllable cooling systems using indoor positioning system and Bluetooth Low Energy/iBeacon technology. Upon installing a receiver device, users can log into tado° using a smartphone, tablet, or browser based app to program and control their A/C remotely for temperature and humidity settings.
But even budget A/C units come equipped with remote controls. The interesting smart upgrade is the system's location-based automation features: the app can detect when users have left the house, automatically turning off air conditioning to reduce energy use. Upon nearing home the tado° system will conversely begin pre-cooling the house to greet occupants with a comfortable user-set temperature. Users with multiple A/C units throughout the house equipped with tado° Cooling can set up the system to follow their movements around the home, turning on and off units as needed so as not to waste energy within unoccupied spaces, saving up to 40% on energy costs.
The whole system relies upon a Bluetooth Low Energy/iBeacon based indoor positioning system to determine when and where to turn on/off or adjust any tado° equipped air conditioners. Temperature and user defined settings can also be made from the base unit's capacitive touch LED display where the all the environmental monitors reside.
tado° Cooling is currently a Kickstarter seeking funding for a late summer 2014 launch.