Amsterdam-based designer Robert Bronwasser has spent over 20 years as an industrial designer, dreaming up thoughtfully designed furniture and objects complete with fun, quirky twists. Once branded under the name SMOOL, Bronwasser just recently rebranded to his own name to better reflect his personal vision and direction. It's clear he has one when you have a look around his office and studio, which is a perfect reflection of his sharp, design-focused eye. Have a look as Bronwasser shares a slice of his daily life and surroundings in this month's Where I Work.
What is your typical work style?
I like to work on several projects at the same time. A lot of the work is done in my head, because for me design is a lot of thinking. Normally I work normal office hours in my studio, but sometimes I like to do some sketching in the evening at home. Because I enjoy designing and then I know I won't be disturbed.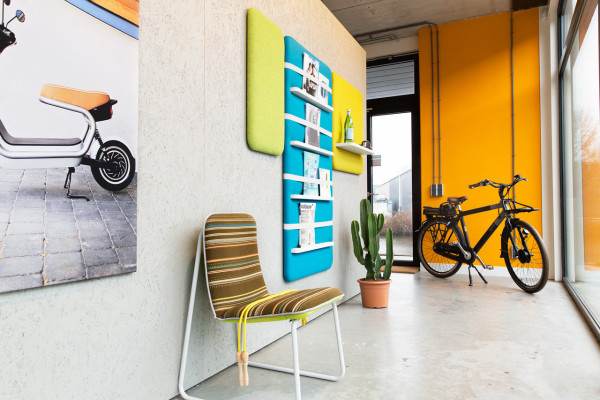 What's your studio/work environment like?
My studio looks organized and clean, but also fun and cozy. In my studio I want to create an enjoyable atmosphere, so it doesn't feel like an office but just a nice place to be. Not just for me, but also for the rest of the team and visitors.
How is your office organized/arranged?
The studio is located in the North of Amsterdam near the waterfront and has three floors. The ground floor has the entrance with a big window, a workshop, storage, and a nice terrace near the water. The first floor I call my living room. It is the place where I receive guests, meet, and have lunch. It has an informal seating with TV (my Homedia concept), a meeting table and an open kitchen with bar.
The top floor is the actual studio with one big table for four people, a big acoustic wall made with Pillows I designed for Cascando, and a table for internal creative sessions. The really nice thing about the studio is that it has high ceilings and a lot of glass with a great view over the Amsterdam IJ.
How long have you been in this space? Where did you work before that?
I moved to this new location at the end of 2014 and officially opened it last April. Before that I had my studio in a former chewing gum factory on the other side of Amsterdam. I moved because now it is very close to my house (no traffic jams) and I really love the location and view.
If you could change something about your workspace, what would it be?
I just moved in and actually the new studio is perfect so far. Maybe in summer we will need an air conditioner. Oh, the stairs between the floors are not very wide, so big prototypes are hard to carry around.
Is there an office pet?
No animals in the office. But we have some ducks and coots outside in the water.
Do you require music in the background? If so, who are some favorites?
I really need music during work; I hate it when it is quiet. Normally I play electronic music that is a mixture of lounge, deep house, and minimal techno. Sometimes with a jazzy groove or pop break. One of my favorite bands is Underworld, but this is not really the best music to play in the background.
How do you record ideas?
Most of my ideas develop in my head and I make short notes or sketches in a small Moleskine (without lines). When working on a project I always sketch on plain A3 paper with a basic black pen.
Do you have an inspiration board? What's on it right now?
I don't have an inspiration board, but try to surround myself with inspiring designs, magazines, and samples. For projects, we make digital inspirations boards that I print and use during the design process. And of course the view over the waterfront is a great source of inspiration.
What is your creative process and/or creative workflow like? Does it change every project or do you keep it the same?
In every project my personal vision on design plays an important role: Design needs to be Smart, Modest, Iconic, Logical, and Enjoyable. SMILE if you get it.
The process of each project always consists of three main elements: Look, Think, Create:
– Look: a good analysis of the context of the project and the product
– Think: develop a clear vision on what the new product should be and do
– Create: find the right mix of functionality and design that result in an enjoyable user experience
What kind of design objects might you have scattered about the space?
The studio is fully furnished and decorated with my own designs. Not just because I like to be surrounded with my own creations, but also it is the best way to show that they all are functional and usable. For decoration I have added my snowboards and some other personal stuff I like.
Are there tools and/or machinery in your space?
On the ground floor we have a simple workshop to make basic mock-ups or prototypes. It has some machinery and hand tools to work with model foam, wood or cardboard.
What tool do you most enjoy using in the design process?
Maybe it sounds weird but the tool I enjoy using most is my brain. Since I have been designing products for over 20 years, a lot of the creative process is happening in my head and it's about thinking which direction a design should go. All my designs are based on a clear vision of what the added value should be and that part of the process is thinking.
Let's talk about how you're wired. Tell us about your tech arsenal/devices.
I been working with Apple products since 1991, and have never used PCs. My normal workstation is a 27" iMac. Next to that I have a 15" Retina Display MacBook and an iPhone 6. I have tried to sketch with a Cinto but really hate all the cables and adapters, so sketching is still on paper.
What design software do you use, if any, and for what?
The programs I mostly use are Adobe Illustrator, Photoshop, and InDesign. But in my studio we also use Solidworks for 3D-modeling and Keyshot for rendering.
Is there a favorite project you've worked on? 
Actually, I do like all the projects I worked on, but what I really like is when a project has its restrictions or has complexity. One of the most complex projects I have done so far is the design of a complete new electric scooter. I especially like this project because it was an interesting combination of teamwork, strategic thinking, decision making, design, detailing, and problem solving. But the end result was worth it.
Do you feel like you've "made it"? What has made you feel like you've become successful? At what moment/circumstances? Or what will it take to get there?
I don't think I have made it, because there are still so many products that I would love to design. But in the past few years I have moved into the luxurious position that I don't have to struggle to find new projects or clients and in new projects I can play a big role in the strategy and direction that's needed in design. So really I feel that now things are just starting!
Tell us about a current project you're working on. What was the inspiration behind it?
At this moment I'm working on very different projects: a new e-bike, a smart thermostat, Lipton merchandise, kitchen accessories, and garden furniture. One almost finished project is Corals, a new modular seating system for offices that I designed for Dutch brand Palau. Palau will introduce Corals soon, so now we are making visualizations to show the possibilities of this seating system. The inspiration was to create a lightweight modular seating of offices that uses less material and fabric and offers interior architects maximum flexibility in configurations.
What's on your desk right right?
Right now there's a mixture of sketches for various new projects on my desk. Besides that, there is always a bottle of water (out of the Crave collection I designed for Aladdin), often a cup of espresso, new magazines, and mail.
Do you have anything in your home that you've designed/created?
There are a lot of my designs in my home: furniture like the couch, chairs, bathtub, bed, desk, the furniture for my son (specially designed for him) and of course a lot of accessories. Some of the paintings on the wall are also made by me. Because when I do have some spare time I like to paint. Unfortunately that does not happen too often…
Photos by Jansje Klazinga and styling by Martine de Schipper.