Where I Work: Hans Bølling at Brdr. Krüger
In this Where I Work, the 86 years young designer Hans Bølling let us into his workshop within the Brdr. Krüger's offices for a look at his surroundings and his work style.
Where I Work: Rebecca Atwood
This Where I Work visited the Brooklyn studio of Rebecca Atwood, an artist and designer with an ever-expanding arsenal of dreamy textiles, wallpapers, artwork, and a just-launched collection of bedding.
Where I Work: Cristian Zuzunaga
Barcelona-born Cristian Zuzunaga, commonly known for his pixelated home furnishings, shared a look into his showroom in Barcelona and his workshop in his farmhouse in Spain.
Where I Work: Thomas Lykke of OEO Studio
Thomas Lykke is a founding partner, creative director, and head of design at the multidisciplinary OEO Studio and he shared a look at his Copenhagen studio and insight into his work process.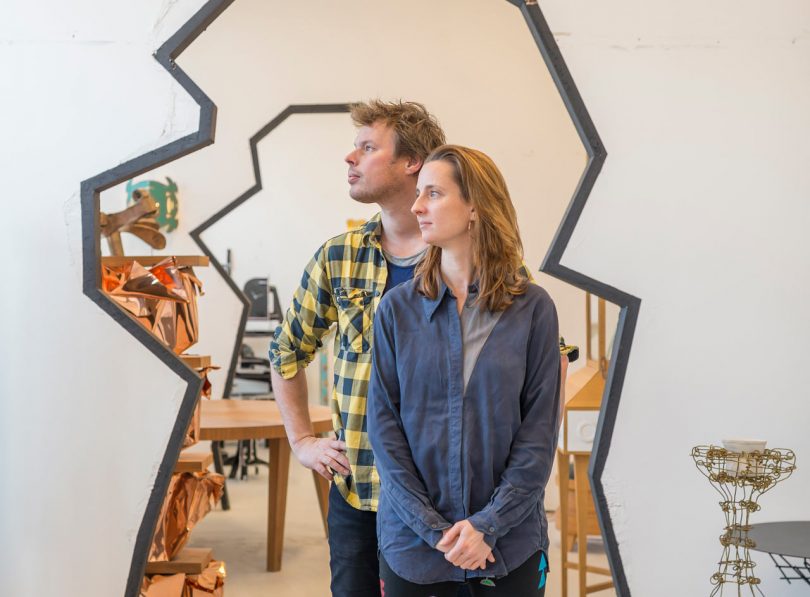 Where I Work: Kiki & Joost
In this Where I Work, Kiki van Eijk and Joost van Bleiswijk, the Dutch designers behind Kiki & Joost, sat down to share a look inside their eclectic studio as well as a glimpse into how they work.
Where I Work: Sarah Yarborough of Raleigh Denim Workshop
Sarah Yarborough, co-founder behind Raleigh Denim Workshop, took us inside the brand's Raleigh, North Carolina workshop and shared some of her design process.
Where I Work: Matthew Hufft of Hufft
For this Where I Work, principal and co-founder Matthew Hufft, of design firm Hufft, took us inside his world to show us around his office and to give us some insight into how he works and does it all.
Where I Work: Anne Fletcher of HOK
For this edition of Where I Work, we visited Anne Fletcher, AIA, LEED AP, at the Los Angeles office of global architecture firm HOK, to see how and where she gets it all done.
Where I Work: Daniel Arsham
We headed to New York to virtually visit Miami-born artist and designer Daniel Arsham to see how and where he makes it all happen, including the work from his latest exhibition, 3018.
Where I Work: Toby Hextall of MOO
For this Where I Work, Toby Hextall took us inside the London offices for MOO to see where he and his team work on concepting, creating, and delivering the MOO products and packaging we've all grown accustomed to seeing.
Where I Work: Sean Woolsey
We headed to sunny Costa Mesa, California to the Sean Woolsey Studio to explore the relatively new space his company calls home and to see how they work.
Where I Work: Zai Divecha
Zai Divecha is a Bay Area native artist based in San Francisco, California, who opened the door to her shared studio space in the Dogpatch neighborhood for a look at her process.