Once again, the MADE section of the Architectural Digest Design Show stole the spotlight, celebrating new works from emerging talent and established designers alike. Most importantly is the consistency and commitment of MADE in showcasing young designers, placing emphasis on quality over quantity. Check out some of our favorites from the show.
Fracture Studios launched their latest collection, Ripple, which sees the studio using gradients, ​depth and texture​ ​to build upon its ​Shift​ series, creating another layer of complexity & mystery. The collection includes lighting, furniture, and accessories, all using a spectrum of color rendered between aqua blue and purple.
Laine + Alliage debuted Consider:Balance, a space that is evocative of the ever pursued concept of balance through a careful selection of etherial silk organza panels interacting with the grounding earth element of natural fiber woven rugs.
Peg Woodworking showcased their Veruca Wall Hangings, a series of curved ash forms available in bleached or blackened finishes. Reminiscent of their iconic seating pieces, the wall hangings utilize their unique hand-woven patterning along bridal and peg joint detailing.
Cody Campanie of Campagna introduced Collection One, a series of pieces focused around handmade furniture with a foundation in humanity and architecture. The work highlights surfaces and their intersection without the use of fixtures and ornaments.
Anony welcomed the launch of their Phase Mobile Light, a chandelier inspired by the exquisite balancing act found in hanging kinetic mobiles. Phase light is an interpretation of a circle in three forms: a sphere, a disc, and a melted semi-circle. This vertical fixture is built from the bottom up to stay balanced.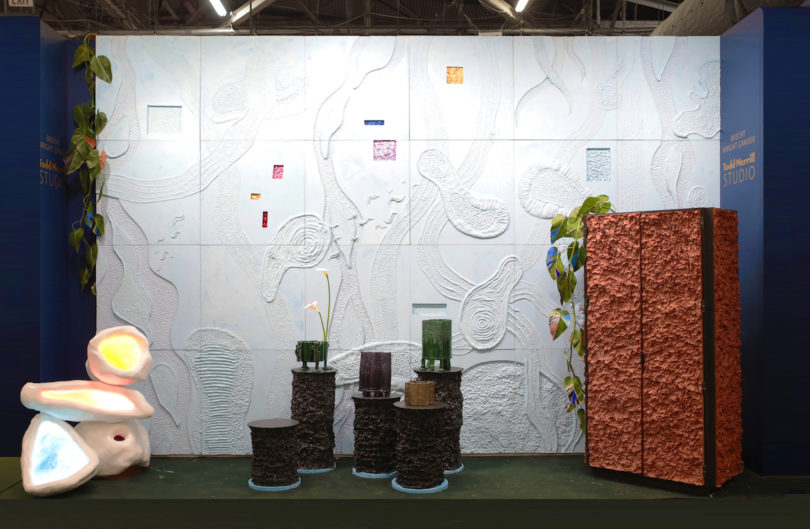 Brecht Wright Gander unveiled Cast Concrete Mural, a large-scale mural composed of a series of customizable cast concrete tiles. Gander conceived the mural through abstract freeform sketches that were then translated into a larger image. Gander then hand-carves the images into foam panels that act as a reverse for casting.
Simon Johns presented his newest work, Ledge Console, which is a floating console in solid ash with a black glass top. The wood components are scored across the grain, then carved by breaking the wood's grain, to create patterns of variable depths.
Vonnegut / Kraft released a number of new works including Bomobora Credenza, named after the undulations and wave-like detailing of which it is rhythmically composed. The credenza is made of solid white oak with custom made brass pulls that pierce the cabinet doors and mimic the wave formations.
Michael Felix exhibited his latest piece, Gaspar Table, which comprises two pieces of granite formed with an alternating wave-like configuration that join together to create a surface that can be used as a coffee table or console.
Trey Jones released a number of new pieces, including the Bookscape Coffee Table, which integrates a book holding design directly into the coffee table in a way that is artfully arranged and supported by thin wooden legs. Oversized geometric marble coasters add to the table's functionality and offer opportunity for unique configurations.