10. A Family House in Kyoto with a Tree Growing in the Middle
Designed for a family of five in a quiet neighborhood in northern Kyoto city, the House in Kyoto, designed by 07BEACH, has an open living plan with a tree growing in the middle of it.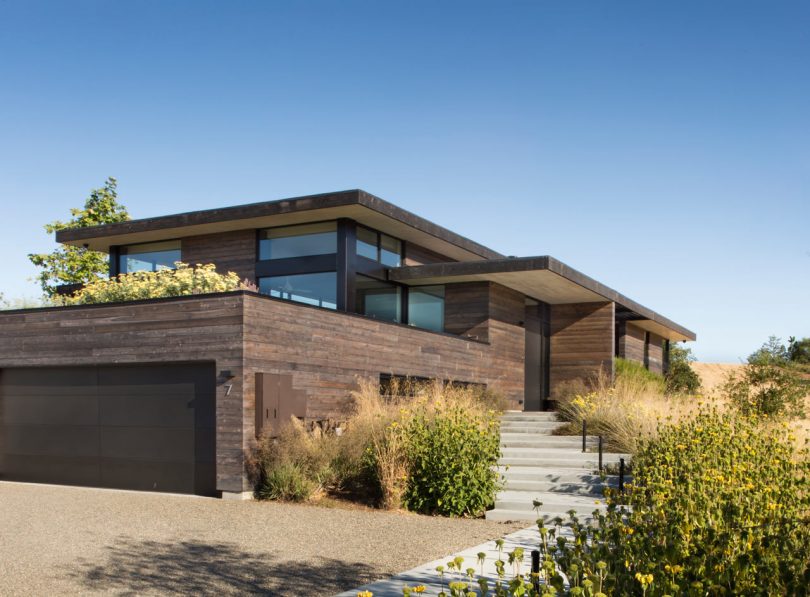 9. Feldman Architecture Designs The Meadow Home on a Prairie
The Meadow Home, by Feldman Architecture, is on a sloped knoll in California's Portola Valley where the L-shaped home lies low following the contours of the hill.
8. A Parisian Apartment Renovated for a Young Family and Their Cat
When designing the Sacha apartment in Paris, SABO project used simple materials, like plywood, resin, and concrete, for a clean, family-friendly space.
7. A SoHo Loft with a Hidden Loft Bedroom by Julian King Architect
To keep the traditional, open feel of a New York City loft, Julian King Architect got creative with the bedroom in a hidden mezzanine loft.
6. A Compact Taipei Apartment Full of Curvy Details
Designed by PENY HSIEH INTERIORS, the Flowing Vector apartment in Taipei features bold curvy details paired with angular elements.
5. This One-Bedroom, Backyard Prefab in West Seattle Runs on Solar Power
Designed by architecture firm Wittman Estes with prefab tech company NODE, the Stone Solar Studio is a one-bedroom, eco-friendly prefab in West Seattle.
4. The Three Step House Built on a Steep Hillside in Los Angeles
Built on a rare empty lot in Silver Lake, the Three Step House by CHA:COL presented quite the challenge during the design process due to steep slope of the site.
3. A Secluded Modern Sanctuary for a Young Family in San Francisco's Mission District
San Francisco residents reached out to Ryan Leidner Architecture when it was time to renovate and add on to their Harrison St House in the Mission District.
2. Do It Yurtself: A Modern Yurt You Can Build Yourself
Zach Both and Nicole Lopez spent 6 months designing and building a modern, mind-blowing yurt so they could share how they did it with a step-by-step guide for you to Do It Yurtself.
And the most popular architecture post of 2019 is…
1. SHED Restores a 1959 Ranch House in Seattle
SHED Architecture's Madison Park Ranch House has a cohesive aesthetic via timeless materials, an open layout, and a color palette that honors its history,