10. The PURO Krakow Kazimierz: A Hotel with All the Design You Wish Was in Your Own Home
To match the neighborhood that surrounds it outside, the inside of the PURO Kraków Kazimierz cultivates an atmosphere of design, art, and wellness.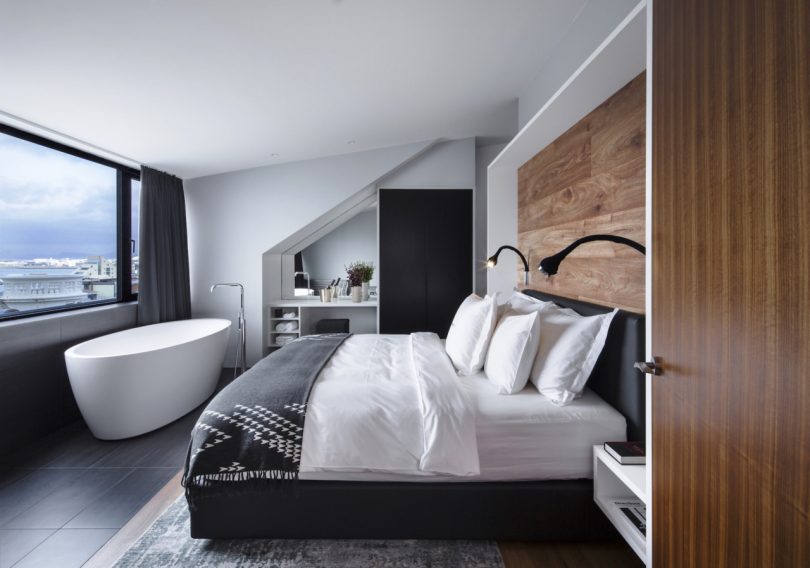 9. Nordic Charm Blends with Modern Design at the Ion City Hotel in Reykjavik
Designed by MINARC, the Icon City Hotel features 18 rooms + suites with interiors that make subtle references to Icelandic design.
8. Casa Flora: A Boutique Apartment That Makes You Feel like a Resident of Venice
The Romanelli family created a boutique apartment rental, Casa Flora, as a temporary home for design savvy travelers seeking to explore another side of Venice, Italy.
7. The Anthemion House: A Mood Board of Blues, Greens, Natural Woods, and Brass
The Anthemion House is a modern hotel in Kavala, Greece that underwent a seven month renovation by Normless Architecture Studio that highlights the architectural heritage and original details in a fresh new design palette of blues, greens, natural woods, and brass.
6. The Rolling Huts: An Architect's Alternative Approach to Camping
Designed by Olson Kundig Architects, the Rolling Huts are glamping on a different, design-forward level from the architecture to the minimalist interiors.
5. Take a Retreat to This Scandinavian Modern A-Frame Cabin In The Middle of the Woods
Lokal Hotel's second location is a high-design vacation home rental out in the middle of woods by the Maurice River in Dorchester, New Jersey, that's a charmingly overhauled 1960s A-frame cabin.
4. Monochromatic and Minimalist: The Hotel Mono in Singapore
Hotel Mono is a monochromatic boutique hotel designed by Spacedge that's a minimalist design lover's dream with the perfect mix of old and new.
3. The Kumaon: A Minimalist Hotel Hidden in the Himalayas Offers More Than Just Incredible Views
Hidden away high above in the Himalayas, The Kumaon is a minimalist hotel designed by architect Pradeep Kodikara and Jineshi Samaraweera of Zowa Architects that offers its guests an unparalleled, immersive experience in nature.
2. When Tiny Is More Than Enough: The Monocabin in Rhodes, Greece
Tiny isn't often the word you want to describe your vacation rental but at the Monocabin in Rhodes, Greece, tiny is more than enough.
And the most popular Destination Design post of 2018 is…
1. The Morpheus Hotel by Zaha Hadid Architects: The World's First High Rise Exoskeleton
The Morpheus hotel in Macau, which is designed by Zaha Hadid Architects, is so intricate and complex that the photographs look like renderings rather than completed architecture.