The Meural Canvas earned a place as one of our past Tech Gift Guide picks, an early prognosticator of the digital art canvas category explosion that introduced an entire world of both static and animated artwork intended to replace or supplement traditional wall art. The first Meural stood out for its unique gesture-based controls, and it's now heading into its second iteration with several refinements and options.
Meural is offered in two versions: the 20 by 50.2 by 1.6 inches Winslow Canvas surrounded by a tasteful 1.5-inch natural walnut frame, or the slightly smaller framed Leonora Canvas available in either black or white. Both models use the same 27-inch 1080p LCD partnered with 8GB of memory (4GB for storing art, and 4GB for storing firmware and software updates). The only difference is the size and material of the exterior frame, with each capable of displaying a wide assortment of image and video files: JPG, GIF, PNG, BMP, and SVG. Looking beyond stills, users can even upload or manually install MP4 or MOV movie files. Note, the Canvas does set a 200MB limit per file and the display doesn't include speakers, but it does open a world of possibilities for displaying silent videos.
Like the first Meural Canvas, the newest model comes equipped with motion sensors giving users the ability to swipe up, down, left, or right to navigate settings and selections. This updated model's gesture efficiency has been notably improved in comparison to the sometimes sluggish first edition, especially while hung on the wall, but it's still preferable to access the Canvas using an iOS or Android connected device, which is still quicker for reviewing artwork collections or changing settings. However, we discovered guests demoing our loaner unit nearly always preferred using gesture controls versus the app, revealing sometimes faster isn't always as wondrous.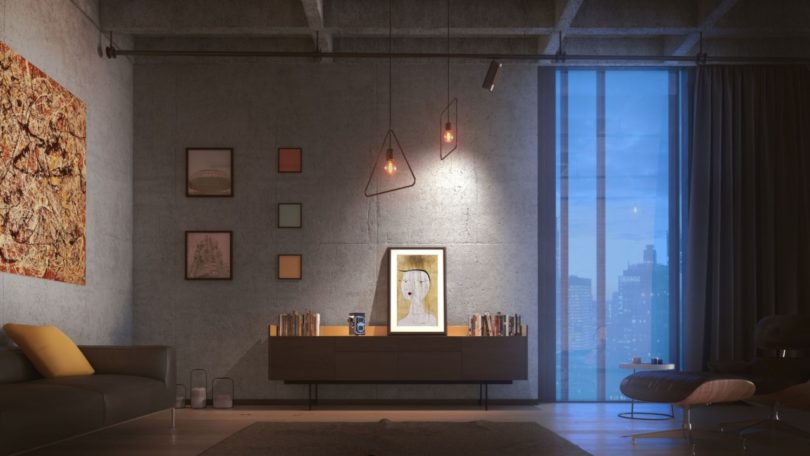 Forgoing a 4K resolution upgrade, the Meural team instead focused on improving the Canvas's viewing angle and color accuracy, which in combination with the display's effective matte screen and an environmentally aware adaptive brightness system, gives artwork and photography a natural and pleasantly clear appearance from normal viewing distances. The result is a digital art frame emphasizing "art" rather than the "digital", and thankfully so when considering gracing the walls with artwork benefitting from a subtle and nuanced approach.
Wall space and the room itself may dictate a preference for either a vertical or horizontal orientation, and the Canvas serves this need automatically by reorienting its display and switch to artwork intended for vertical or horizontal modes. Wall mounting hardware is included and is extremely easy to install even for a single person; we do wish in the future Meural team would develop a simpler option for adjusting the display to rotate between orientation modes, which would undoubtedly please indecisive types.
Although the Meural Canvas works as a solitary option, it's best as a supplement mixed in with traditional wall art; integrated side by side with paintings, photography, or prints, the digital display offers a novel option to showcase curated collections of artwork of both a personal or professional nature, any which can be magically called up with a swipe of the hand – something no framed piece of traditional static art can yet do.