Our architecture posts take us around the world, showcasing fabulous homes that we can only dream of living in, and treating us to glimpses of fascinating lifestyles. This year's highlights include an über-narrow dwelling in Japan, TWO houses with slides (seriously!), and a mid-century modern masterpiece nestled in lush surroundings. Feast your eyes on our ten absolute favorite architectural gems.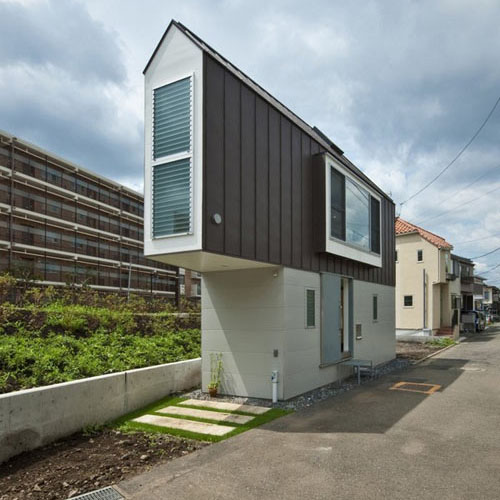 River Side House in Horinouchi by Mizuishi Architect Atelier
This tiny home in Tokyo was built on a triangular slice of a site along a river. At just 312 square feet, it still seems open and airy, and even has a loft play space for the couple's little girl.
747 Wing House
The roof of this Malibu house is made from the wings of an airplane. Need we say any more?
The Rainbow House
This funhouse-meets-home is just what we dreamed of as kids. The central staircase spirals 'round in a rainbow, mom and dad's room has a rotating circular bed, and a trap door reveals a slide that dumps riders into the living room.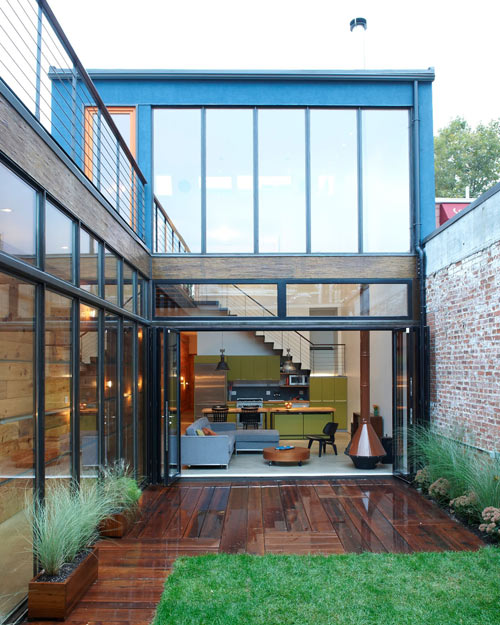 Atrium House by Mesh Architectures
This courtyard house in Brooklyn is a special urban dwelling indeed, complete with patch of grass, glossy patio, expanses of glass, and private front façade. City living at its best.
Quotel by Mode:Lina Architektura
A shuttered window, herringbone floors, ample shelves, and plenty of space to hang your clothing, not to mention clean design, and just enough clear bursts of color. Everything a guest visiting Poland for the Poznan International Fair could desire.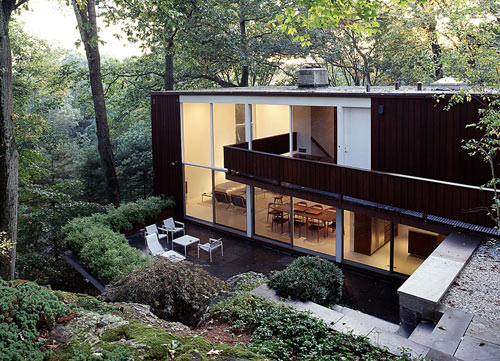 Mid-Century Modern by BassamFellows
In a posh suburb of New York City sits this extensively renovated mid-century modern house with minimalist furnishings of the same era that complement the architecture. And the wide expanses of glass make the most of the lush surroundings.
73rd Street Penthouse by Turett Collaborative Architects
The homeowner traveled with architect Wayne Turrett to a remote quarry in the Swiss alps to hand pick the stone for the double-height wall around the 15-foot-wide fireplace.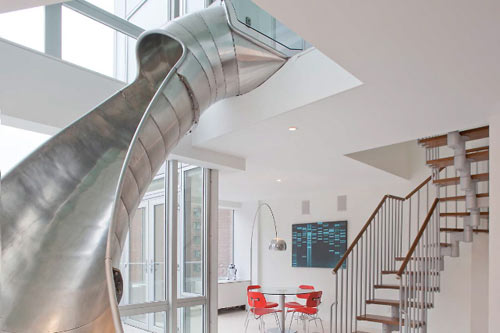 NYC Home with a Steel Slide by Turett Collaborative Architects
Another slam dunk for Turett Collaborative Architects. We can hardly believe it, but we found yet another house with a slide. Parents sure are fun these days!
Architect Barbie
In Barbie's 50 years, this year is the first she's explored architecture as a career. Mattel partnered with the American Institute of Architects on architecture workshops  for young girls at the AIA Convention and Design Exposition. They also held a competition  for architects to design the Architect Barbie's Architect Dream House.
Lincoln Residence by E/L Studio
This suburban D.C. home illustrates practical architecture at its best. The 1970s-style modern house had limited space, but by pulling off the roof and restructuring what was inside, the renovation transformed it into a sleek, livable family home. A far better option than pulling it down and starting over.