You asked for it and we answered you with a big DIY bang. Every month, with a few extra bonuses, we brought you some of the coolest, and totally doable projects that you could easily recreate in your own home. Hopefully we've inspired you to dust off your tools and your creativity to attempt some of them. Let's take a look back at our Make It Modern DIY column and see all the projects that will make you want to put your DIY hat on.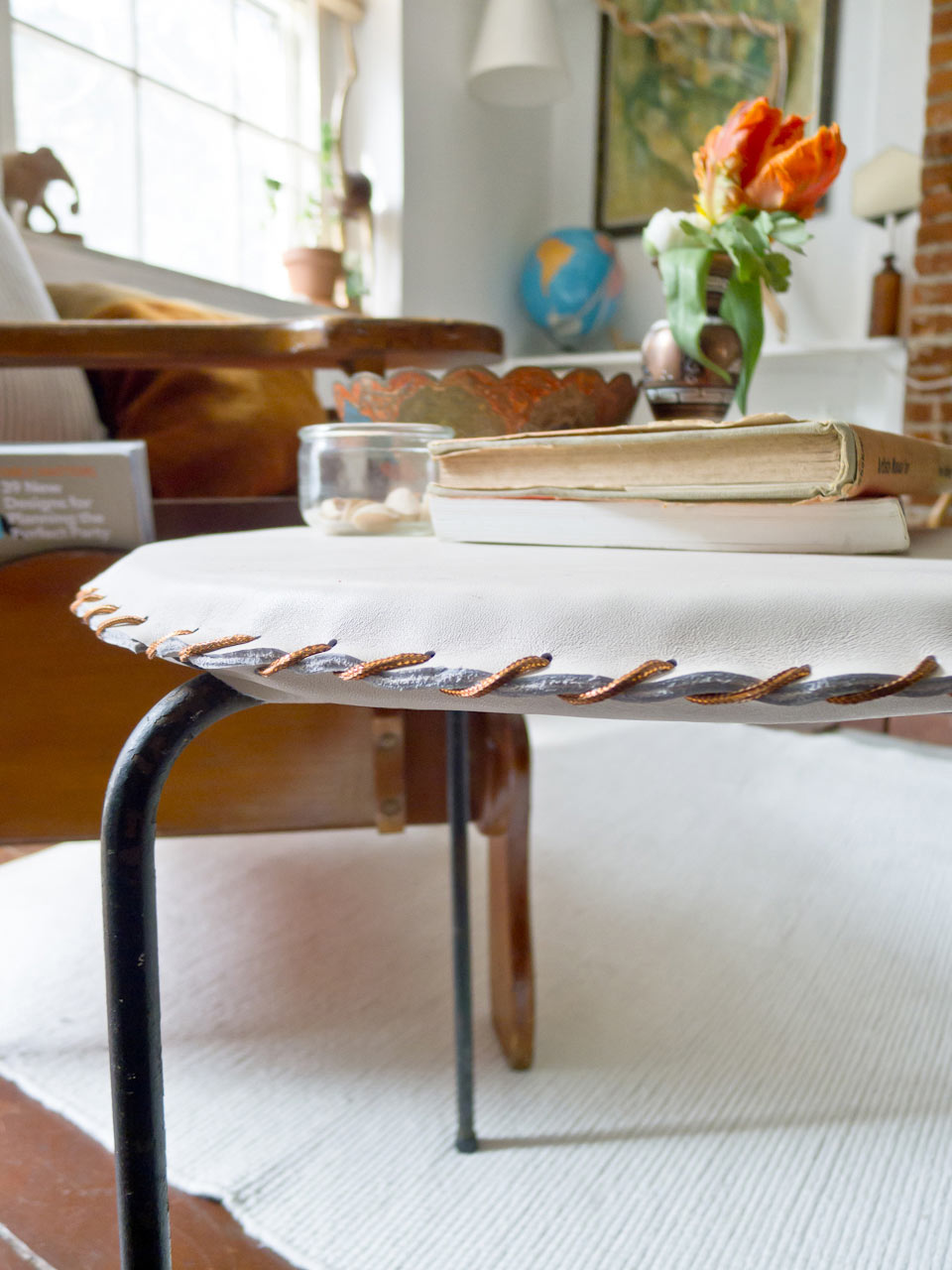 DIY Minimal Leather Stool Cover
Make it Modern begins with a bang by repurposing an old side table/stool and giving it new life by creating a minimal leather, hand-stitched cover.
DIY Copper Geometric Pendant Lamp
Sleek, copper fixtures were making us (and still do) swoon but the steep prices were making them unattainable. Luckily Meg worked out the kinks and designed this incredibly awesome geometric pendant that would look good anywhere.
Use Paint Palettes to Create Artwork-Inspired Furniture
Furniture doesn't have to be plain or boring, so with the help of Sherwin-Williams' Chip It!, this bookshelf got an injection of color.
DIY Colorful Plasti Dip Key Tops
A great way to color-code your keys is with some Plasti Dip and a few wooden letters and toys.
DIY Two-Tone Sail Rope Hammock
The perfect summer project, or when you're dreaming about summer all winter. Weave your way to a 6′ hammock that you can lay back and lounge in all year long.
DIY Metallic Faceted Wood Doorknob
With some basic, everyday hand tools, you can create your own metallic faceted doorknobs and do away with those generic, store-bought ones that everyone has.
Geometric Wall Mural Laundry Room Makover
A Pinterest-inspired idea to makeover a boring laundry room wall and give it a modern geometric design that was aided by Sherwin-Williams' ColorSnap Studio™ for iPad app.
DIY Rope & Leather Chair Transformation
Give an old, neglected dining chair a facelift with some leftover rope and a little extra fabric.
DIY 3D Trompe l'oeil Coat Rack
Need extra storage for odds and ends but lack a lot of space? You should tackle this statement wall rack that has a bold 3D look without jutting out too far into the room.
How to Bring DIY Urban-Inspired Art Into Your Decor
Bing challenged us to use the new Smart Search powered by Windows 8.1 for a little DIY inspiration and with a bit of mylar and some Sharpies, the results bring pops of color into Meg's home office.
DIY 3D Felt Wall Panels
With a little patience, felt, and some Elmer's glue, you can have a beautiful, textural wall that adds dimension and a bit of sound absorption to your space.
DIY Brutalist-Inspired Sculptural Table Lamp
Brutalist pendants and sculptures are quite pricey, so it was time to take on the challenge of an affordably priced version. A dark, broody table lamp is the perfect way to incorporate some brutalist decor into your own home.
DIY Concrete Bauble Garland
Make a simple garland out of geometric concrete shapes and some rope, perfect to leave up all year long so your room is always festive.

Design From Around The Web