10. DIY Machines That Recycle Plastic into Objects
Recognizing the abundance of plastic waste, Dave Hakkens designed DIY machines that will help turn unwanted plastic into usable objects or raw materials.
9. Offcuts + Resin Combined to Form New Furniture
By combining resin and wooden offcuts, HATTERN makes modern stools that produce almost zero waste during production.
8. A Limited Edition, VW Bus-Inspired Kids Bed
Circu launched a magical, limited edition, VW bus inspired bed for children that comes complete with a bed, sofa, TV, fridge, and desk.
7. Get Knotty With These Cushions from Knots Studio
Full of bright colors and funky textures, these decorative, knotty cushions and stools from Knots Studio are guaranteed to be conversation starters.
6. A Comfortable Workstation with Everything You Might Need
A workstation that brings together everything you need to get your work done – a comfortable seat, tabletop, storage, ottoman, and an electrical outlet.
5. RE.BIN: A Modern Recycling Bin
RE.BIN wants to steer you away from unsightly recycling bins to use a stylish alternative like theirs, which resembles a paper grocery bag.
4. Self-Sustaining Ecosystem Lets You Grow Plants in Windowless Spaces
Mygdal is its own self-sustaining ecosystem where it mimics sunlight causing plants to perform photosynthesis – meaning, it requires no work from you.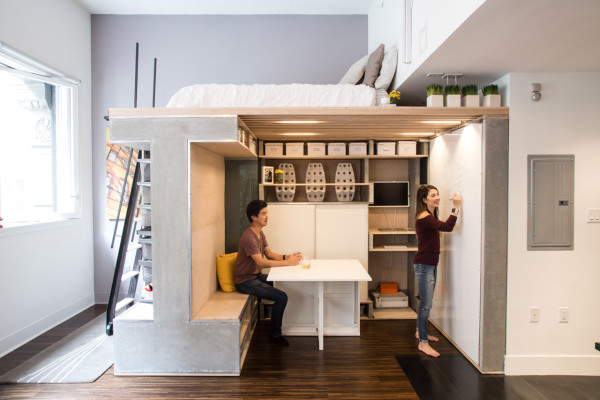 3. Make the Most of a Small Space with this Multifunctional Loft System
A 500 square foot urban condo needed more function so a pre-fabricated loft that packs a multitude of functions into its compact design was created.
2. An Inflatable, House-Shaped Bed (in a Bag!) for Guests
Ca.Mia, designed for Campeggi, is an inflatable bed that also offers your guests privacy. As the bed inflates, the shape of a small house begins to appear.
And the most popular home furnishings post of 2016 is…
1. This 112-Year-Old Company Is Making Enormous Tables for Apple Campus 2
Apple partnered with tablemakers Arco to create 18′ long tables that will serve as a focal point for collaboration inside Apple Campus 2.